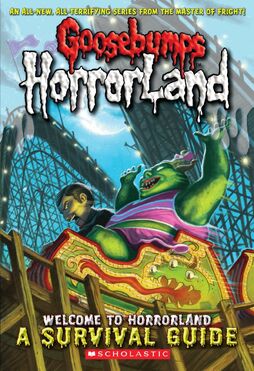 Welcome to HorrorLand: A Survival Guide was a bonus book in the Goosebumps HorrorLand book series. The book was released between books 12 and 13 (serving as a divider between the two arcs). This book is unnumbered, but is sometimes referred to as book 12.5 or book 0.
The cover shows Slappy the Dummy and a HorrorLand Horror riding together on a roller coaster in HorrorLand.
Synopsis
The set up of this book is very different from others in the book series. Instead of being split into three parts, there were just chapters/sections, like an actual guide to a park. Each section described a different thing of the park, like restaurants, rides, or hotels. In each section, there are advertisements and information about things in the park.
Most of the locations, people, Horrors, and attractions named in this book are examples of puns or word-play. (For example; Howard U. Likeapunchindanose)
The last few pages of this book contain bonus material and several interviews with characters from the Goosebumps series and Goosebumps HorrorLand.
Plot
There is no consistent plot in this book. It is just a humorous book that describes the creatures and attractions of HorrorLand.
Ad blocker interference detected!
Wikia is a free-to-use site that makes money from advertising. We have a modified experience for viewers using ad blockers

Wikia is not accessible if you've made further modifications. Remove the custom ad blocker rule(s) and the page will load as expected.