"Welcome to Camp Nightmare" is the fifth and sixth episode of season one of the Goosebumps TV series. Part one and two premiered on November 17, 1995 on Fox Kids Network respectively.
Cast
Kaj-Erik Eriksen as Billy Harlan
Chris Benson as Uncle Al
Jeffrey Akomah as Jay
Ken Mundy as Colin
Benjamin Plener as Roger
Paul Brogren as Larry
David Roemmele as Mike
Sarah Mitchell as Dawn
Greg Kramer as George
Gil Garratt as Counselor
Kerry Duff as Dori
Alex Hazisavvas as Martha
Danny Sohal as Kevin Spears
Alec Bachlow as Mr. Harlan (uncredited)
Michèle Duquet as Mrs. Harlan (uncredited)
Plot
Differences from the book
Uncle Al gives the boys devices that look similar to crossbows instead of rifles.
Billy is woken up by Dawn instead of Larry.
Dawn is the only girl to hide in the woods. In the book, she brings Dori with her.
Home releases
"Welcome to Camp Nightmare" was released on DVD on September 16, 2008, as the third/fourth episode on One Day at HorrorLand. It was included in a 3-Pack Thriller DVD on August 26, 2014.
Title
Release date
Media type

One Day at HorrorLand

---

September 16, 2008
DVD

3-Pack Thriller

---

August 26, 2014
DVD
Trivia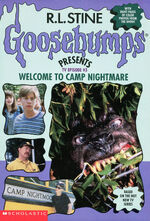 This episode was adapted into Goosebumps Presents book #3.
When the episode first aired, it was originally intended to have the theme that "The Cuckoo Clock of Doom" and "The Girl Who Cried Monster" had. Instead, it was replaced with the original theme, except when the word "Goosebumps" appeared through the door of the house, the word continued to move.
Benjamin Plener (Roger) played Jonathan Hall in season three's, "The Haunted House Game".
David Roemmele (Mike) played Billy Brown in season three's, "Perfect School".
Kerry Duff, who had an uncredited appearance as a camper, played Margo in season one's "Night of the Living Dummy II".
The rubber snake that Mike was "bitten" by is seen in two close-up shots as a real Ball Python.
Gallery
Promos
Ad blocker interference detected!
Wikia is a free-to-use site that makes money from advertising. We have a modified experience for viewers using ad blockers

Wikia is not accessible if you've made further modifications. Remove the custom ad blocker rule(s) and the page will load as expected.