http://m.hindustantimes.com/books/25-years-of-goosebumps-r-l-stine-tells-us-how-he-brought-his-monsters-to-life/story-L2dp5o2ihMGRqeAcupmizK.html
Stine tells us how he brought his monsters to life.
He reveals some interesting and funny information, like his 3 favorite books.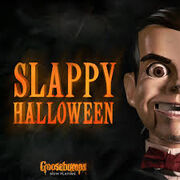 One of his favorite horror movies is The Shining
And he says what Stephen King accuses him of......
Ad blocker interference detected!
Wikia is a free-to-use site that makes money from advertising. We have a modified experience for viewers using ad blockers

Wikia is not accessible if you've made further modifications. Remove the custom ad blocker rule(s) and the page will load as expected.