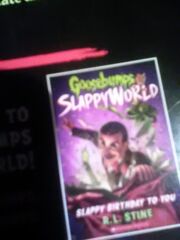 It appears that the logo for Goosebumps SlappyWorld had slightly changed, here's a photo of the book on the back of my copy of The Lizard of Oz, sorry about the low quality, take a look at the logo, originally, Slappy's left hand was touching the, "D" of the logo, now his left hand is touching the, "L" So I guess they changed the logo, should we go look for this logo somewhere online, or wait till the book comes out?
Ad blocker interference detected!
Wikia is a free-to-use site that makes money from advertising. We have a modified experience for viewers using ad blockers

Wikia is not accessible if you've made further modifications. Remove the custom ad blocker rule(s) and the page will load as expected.