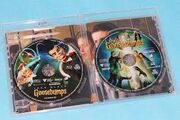 The 25th anniversary of Goosebumps is coming! Wow, 25 freaking years! R.L. Stine said there will be suprises in store, My God, I wonder what's going to happen. Also, Stine is also going to write a Marvel comic called, "Man Thing" man, we're all connected.
So any way, what do you think is going to happen in 2017? How Will you celebrate?
For me, I'm going to have an R.L. Stine movie month in July 2017:
Ghost Beach
A Night in Terror Tower
Scary House
Chillogy
The Ghost Next Door
It Came From Beneath the Sink
Attack of the Mutant
The Blob that Ate Everyone
Go Eat Worms
Attack of the Jack O Lanterns
The Headless Ghost
The Scarecrow Walks at Midnight
Monster Blood
Night of the Living Dummy
Say Cheese and Die
Goosebumps movie
The Haunting Hour vol. 1
The Haunting Hour vol. 2
The Haunting Hour: Don't think about it
Mostly Ghostly
Mostly Ghostly: Have you met my Ghoulfriend?
Mostly Ghostly: One Night in Doom House
Monsterville: Cabinet of Souls
And I'll always look back to when I first became a fan back in the third grade, thanks Mrs. Farrington! You turned me into a monster, lol!
     HAPPY 25TH ANNIVERSARY GOOSEBUMPS!

PS: Slappy was here!
Ad blocker interference detected!
Wikia is a free-to-use site that makes money from advertising. We have a modified experience for viewers using ad blockers

Wikia is not accessible if you've made further modifications. Remove the custom ad blocker rule(s) and the page will load as expected.