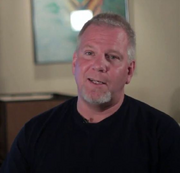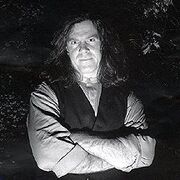 Tim Jacobus (born April 21, 1959) is the artist who painted 60 of the 62 original Goosebumps covers. He later went on to create all of the covers for Goosebumps Series 2000, and even some of the reprint editions.
Scholastic had two artists in mind to do the Goosebumps covers: Tim Jacobus and Jim Thiesen. Jacobus created the art for the first Goosebumps book Welcome to Dead House, and Thiesen created the cover art for Stay Out of the Basement. Scholastic chose Jacobus to do the art for the Goosebumps series because they liked his use of saturated colors.
Jacobus claims it took 30 hours to complete a Goosebumps cover. He would have a 1 month deadline to complete a cover. This caused complications at one point, specifically with A Night in Terror Tower. He had 24 hours to turn in the painting, but it wasn't finished yet. So he worked on it in the morning, and finished it late a night. The next day he turned it in to Scholastic on time.
After a long hiatus from Goosebumps, Jacobus was brought back for the Goosebumps (film). He did the artwork for the "The Invisible Boy's Revenge" book cover that was shown near the end of the movie. He had no involvement with the animated Goosebumps covers during the credits, however. In fact, he was completely unaware about it until he saw the film in theaters for the first time.
Jacobus also recently did the artwork for Goosebumps Original Motion Picture Soundtrack.
In 1998, Jacobus wrote an autobiography entitled It Came from New Jersey!. The book details Tim's history as an artist and contains a detailed description he makes a Goosebumps cover.
Personal life
Jacobus was born on April 21, 1959 in New Jersey. He created the covers to R. L. Stine's book series, Goosebumps. All books in the original Goosebumps series were painted by hand. Jacobus wrote an autobiographical book called It Came from New Jersey!, similar to Stine's It Came from Ohio!. It is notable that Jacobus once worked for Converse shoes; Converse sneakers have appeared on the covers of many Goosebumps books. He has one son, who was born in 1998. Jacobus now resides is Budd Lake, New Jersey.
Jacobus no longer illustrates the covers of Goosebumps books, but he still works as an artist. Also, Jacobus no longer relies solely on the use of traditional painting techniques. In recent years, Jacobus has begun using computers to create digital art.
Works
Ad blocker interference detected!
Wikia is a free-to-use site that makes money from advertising. We have a modified experience for viewers using ad blockers

Wikia is not accessible if you've made further modifications. Remove the custom ad blocker rule(s) and the page will load as expected.