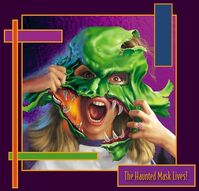 The Haunted Mask Lives! was intended to be the first book in the Goosebumps Gold book series. It was going to be released in 2001 same as Happy Holidays from Dead House, but it was not written or published because of R. L. Stine's contract ending with Scholastic. The book was going to be the second sequel to the Goosebumps book, The Haunted Mask.
Plot
The plot is unknown. The girl on the cover looks somewhat like Carly Beth, so it was possibly about the Haunted Mask coming back and trying to take over Carly Beth.
Cover
Despite not being published, Tim Jacobus made a cover depicting presumably Carly Beth screaming and riping off the haunted mask . The cover can be seen here. [1]
Ad blocker interference detected!
Wikia is a free-to-use site that makes money from advertising. We have a modified experience for viewers using ad blockers

Wikia is not accessible if you've made further modifications. Remove the custom ad blocker rule(s) and the page will load as expected.