"Haunted Mask II" is the eleventh and twelfth episode of season two of the Goosebumps TV series, and the thirtieth and thirty-first episode overall. Part one and part two premiered on October 29, 1996 on Fox Kids Network respectively.
Cast
Kathryn Short as Sabrina Mason
Julie Khaner as Marilyn Boswell
Colin Fox as Shopkeeper
Scott Wickware as Haunted Mask
Brenda Bazinet as Carly Beth's Mom (credit only)
Andrea O'Roarke as 11-Year-Old Girl
Derek Boyes as Husband
Cody Jones as Noah Caldwell (credit only)
Hayley Lochner as Scolded Child
Dave Harvey as Kindly Old Man
Hamille Rustia as Trick-or-Treater #1
Shannon Duff as Trick-or-Treater #2
Bucky Hill as Football Player
Alex Campbell as Vampire Boy
Trevor Wilson as First Teen
Jeremy Tracz as Second Teen
Christian Matheson as Third Teen
Alli Hicks as Young Mother
R.L. Stine as himself (host)
Plot
Differences from the book
The episode has some differences that were not present in the book. The book was about Steve Boswell coming across the old man mask that gradually began turning him into an old man. The television episode had the Haunted Mask revive on its own and possess the mask maker in an attempt to merge with Carly Beth again. All the while, Steve finds the old man mask and it bonds to his face. The Haunted Mask decides to use Steve as his minion in order to get to Carly Beth. And at the very end Steve and Carly Beth decided to burn their masks at Steve's place, shockingly Carly Beth's mask suddenly returns.
Home releases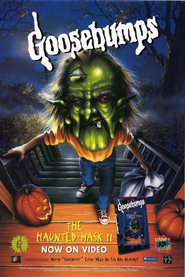 "Haunted Mask II" was released on VHS in the US on July 29, 1997, and October 1, 1999 in the UK. It was released on DVD on September 7, 2004.
Title
Release date
Media type

The Haunted Mask II

---

July 29, 1997 (US)


October 1, 1999 (UK)


VHS

The Haunted Mask II

---

September 7, 2004
DVD
Trivia
Gallery
Videos