Monster Blood was adapted into an episode of the Goosebumps TV series. The episode aired on Fox Network on November 16, 1996 as the fifteenth episode of Season 2. It was directed by Timothy Bond.
Cast
Sarah Podemski as Andy
Corinne Conley as Aunt Katherine
Joy Tanner as Sarabeth
Mark Benesh as Curtis
Mark Melymick as Dad
Janet Land as Mom
Ashley Dawn Brown as Julia (uncredited)
Differences from the Book
In the book, Evan and Andy buy a can of Monster Blood at an old toy store. But in the television episode, they find it in a room Kathryn forbid them from entering.
In the book, Trigger was a cocker spaniel. But in the television episode, Trigger was a collie mix.
In the television episode, there weren't any twins.
In the episode, Kathryn is not deaf.
Trivia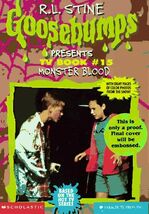 Gallery
Television Episode
Media
Monster Blood DVD
The Monster Blood DVD was released in 2008 to celebrate the release of Goosebumps HorrorLand, and was released along with A Night in Terror Tower and One Day at Horrorland. The DVD featured the following episodes:
Ad blocker interference detected!
Wikia is a free-to-use site that makes money from advertising. We have a modified experience for viewers using ad blockers

Wikia is not accessible if you've made further modifications. Remove the custom ad blocker rule(s) and the page will load as expected.