---
Navigation:
---
How I Met My Monster is the third book in the Goosebumps Most Wanted book series. It was published in 2013. The cover shows a monster wearing a T-shirt that says, "I ❤ Wolves" in front of a green, scratched wall.
Blurb
Noah Bienstock can't help being so shy and nervous; he's always been like that. His best friend, Lissa Gardener, lives in the same building, but aside from her, Noah isn't very popular. So when he learns that the new student in his class is also his neighbor, Noah's excited to have a new person to hang out with. But as the boys spend more time together, Noah starts to worry all over again -- is there something strange about his new friend?
Plot
Noah Bienstock
is a middle-schooler who wears glasses and is often called 'Bean' by friends and bullies. He meets a boy his age named Monroe Morton. As time passes, he begins to suspect Monroe is not human. His other friends tell him not to worry until he finds out they ARE monsters, and that they want to turn him into one as well. It turns out that Noah and his family, along with every family in Sternom House, had always been monsters. At the ending of the book, Noah actually enjoys his new life as he can now get back at the bullies.
Pre-release cover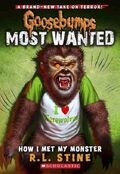 An unused version of the cover for the book How I Met My Monster features a slightly different design. The most obvious way that the images differ are in the messages on the shirt; the pre-release cover uses the phrase, "I ❤ Werewolves" instead of the phrase, "I ❤ Wolves", which was used on actual printings of the book. Additionally, the color saturation of the final version of the cover is different than that of the pre-release cover.
International releases
No.
Book
Country/Language
Translated title
Release date
Publisher
2

Comment j'ai Rencontré mon Monstre

---

France

---

French

How I Met My Monster
 ?
Bayard
Artwork
Trivia
The title and blurb are a parody of the TV series How I Met Your Mother.
This book references Bugs Bunny and NASA.