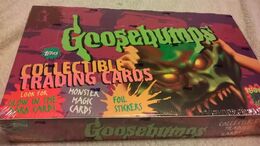 There have been several different iterations of Goosebumps trading cards. Some trading cards were features inside of books in the original series, but many sets were sold as separate promotional material.
Book trading cards
see full article: Goosebumps (original series)/Tear-outs
Starting with #40 Night of the Living Dummy III, the original Goosebumps series started including trading cards in the middle of the books. There would be two cards with characters from that book and the following book, as well as a bookmark inside. These cards were only featured in the original series and were never officially released elsewhere.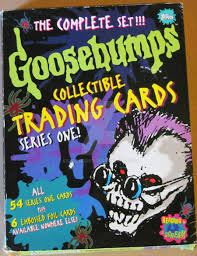 Topps Collectible Trading Cards
Topps had released many different Goosebumps trading cards as merchandise. Many of them were used as promotions. The trading cards would have different types of cards including:
Rare Foil Embossed Cards
TV Show cards
Monster Cards
Story Cards
Monster Magic Cards
Glow in the Dark Cards
Foil Stickers.
Topps released several series of cards. Each series set contained sixty cards. The cards came in the following varieties: TV Show cards, Monster Cards, Story cards, and Rare foil cards. The Monster Magic cards, Glow in the Dark cards, and Foil stickers were released in a separate box sets.
Gallery
Glow in the Dark Trading Cards
Original Series Tear-out Trading Cards