Goosebumps the Board Game, is a board-game that released as a tie-in for the 2015 Goosebumps film. You take control of R.L. Stine's monsters, who have escaped from their manuscripts. The goal is to reach the typewriter before the other monsters do (the losing monsters get sucked back into the book.) The game also comes with cards depicting the monsters that appeared in the film. You roll the dice to play, and up to 6 players can participate.
There are two possible shortcuts. The cemetery (watch out for The Graveyard Ghouls), and you can ride in The Haunted Car.
Playable characters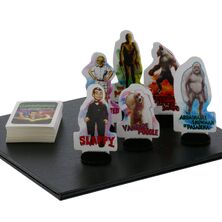 Shopping
Ad blocker interference detected!
Wikia is a free-to-use site that makes money from advertising. We have a modified experience for viewers using ad blockers

Wikia is not accessible if you've made further modifications. Remove the custom ad blocker rule(s) and the page will load as expected.