NOTE: NONE OF THE INFORMATION ON THIS PAGE IS CONFIRMED. IT IS ONLY FAN SPECULATION.
HorrorLand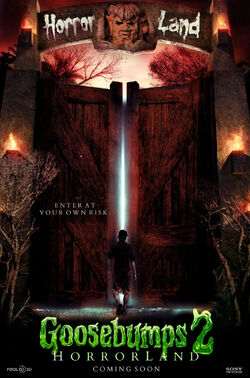 Previously, it was heavily speculated that the film would feature the theme park HorrorLand in some way. However, this piece of speculation was validated in May 2017 when the title of the film, Goosebumps HorrorLand, was confirmed.
Returning monsters/villains speculated to appear
New monsters/villains speculated to appear
Other
A possible reason why there are a few manuscripts that were never opened in the first film may be because Slappy was saving them, but never got a chance to release them.
Ad blocker interference detected!
Wikia is a free-to-use site that makes money from advertising. We have a modified experience for viewers using ad blockers

Wikia is not accessible if you've made further modifications. Remove the custom ad blocker rule(s) and the page will load as expected.