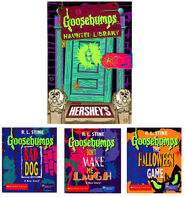 Goosebumps Haunted Library is a collection box containing three short stories, "Bad Dog", "Don't Make Me Laugh" and "The Halloween Game". It was released in 1996, and was sponsored by Hershey Foods Corporation, PepsiCo., Inc and Frito-Lay, Inc.
Blurb
Curly is not only the coolest of ghouls, he's actually frightfully well read. He "freak"-quents the library often and gives "Goosebumps" to all the browsers and loungers who dare to enter. The latest hair-raising additions to his private collection are three titles, "THE HALLOWEEN GAME", "BAD DOG"" and "DON'T MAKE ME LAUGH", which have been written by R.L. Stine especially for Hershey, Pepsi, and Frito-Lay. Every Boo Dude will want to "check out" this exclusive "Thrillogy" Mini-book collection. Come back again real soon for more of the "Good, Clean, Scary Fun" that is Goosebumps!
Ad blocker interference detected!
Wikia is a free-to-use site that makes money from advertising. We have a modified experience for viewers using ad blockers

Wikia is not accessible if you've made further modifications. Remove the custom ad blocker rule(s) and the page will load as expected.