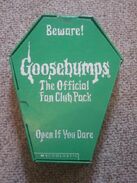 The Goosebumps Fan Club was a reading fan club that focused around the Goosebumps books, videos, and merchandise. A fan could submit their mailing address, and they would receive Goosebumps related merchandise.
The fan club would usually be promoted in the Goosebumps books or at the beginning of the Goosebumps VHS tapes.
Merchandise
To view more Goosebumps merchandise, see Goosebumps (franchise)/Merchandise
The Scream Newsletter
Baseball Caps
Pens
Doorknob Hangers
Autographed Photos
A Goosebumps Fan Club Membership card
Folders
Game Sheets
Zipper Tags
Wallets
Notepads
Curly Bio
Stickers
Iron-on Shirt Decals
Framed Gallery Art
Key Chains
Bookends
Posters
Postcards
Ad blocker interference detected!
Wikia is a free-to-use site that makes money from advertising. We have a modified experience for viewers using ad blockers

Wikia is not accessible if you've made further modifications. Remove the custom ad blocker rule(s) and the page will load as expected.