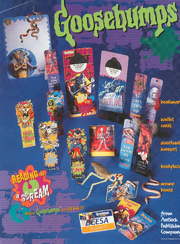 Goosebumps received its own line of merchandise in 1996. The main mascot of the line was Curly the Skeleton, who was also the mascot of the Tales to Give You Goosebumps book series. However, he received a major redesign. Curly was given red eyes, a Mohawk (sometimes with a pony-tail), glasses, and a red scarf. There were other mascots as well, such as Cuddles the Hamster, Prince Khor-Ru, Slappy the Dummy, the Mud Monster and a Horror.
Goosebumps Fan Club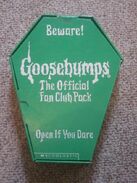 The Goosebumps Fan Club was a reading fan club that focused around the Goosebumps books, videos, and merchandise. A fan could submit their mailing address, and they would receive Goosebumps related merchandise.
The fan club would usually be promoted in the Goosebumps books or at the beginning of the Goosebumps VHS tapes.
List of Goosebumps Fan Club merchandise
The Scream Newsletter
Baseball Caps
Pens
Doorknob Hangers
Autographed Photos
A Goosebumps Fan Club Membership card
Folders
Game Sheets
Zipper Tags
Wallets
Notepads
Curly Bio
Stickers
Iron-on Shirt Decals
Framed Gallery Art
Key Chains
Bookends
Posters
Postcards
Merchandise gallery
Goosebumps Collectibles - (Action Figure Collectibles)
Monster Bags - (Buld-A-Figures)
Flip Faces
Dread Heads
Freaky Faces
Shakin' Creatures
Pocket Scream Machines
Bookmarks
Book Lights
Key Chains
Puzzles
Board Games
Card Games
Trading Cards
Main article: Goosebumps trading cards
Glow in the Dark Trading Cards
Wallets
Watches
Pens
Pencil Sharpeners
Pencil Holders
Erasers
Tape Dispensers
Rulers
Folders/Ring-binders
Staplers
Stamps
Lunch Boxes/Lunch Bags
Flashlights
Nightlights
Scissors
Stickers
Window Decorations
Bike Headlights
Audiobooks
Costumes
Masks
T-Shirts
Pillows
Paint Kits
Mugs
Foods
Fast Food Items
Slappy Props
Items included in original series books
Earlier printings of the Goosebumps original series included extras such as bookmarks, trading cards, metallic stickers, masks, posters, a light switch cover, and more.
Ad blocker interference detected!
Wikia is a free-to-use site that makes money from advertising. We have a modified experience for viewers using ad blockers

Wikia is not accessible if you've made further modifications. Remove the custom ad blocker rule(s) and the page will load as expected.