Goosebumps Alive is an interactive show held in London, which opened up on May 14th 2016.
Plot
There are two different versions of the show:
Adult:
A more adult version of the ride which features many more jumpscares and more gruesome imagery, while still keeping to the spirit of the books.
Kids:
A tamer version of the ride with a little fewer jumpscares and not quite as extreme as the adult version.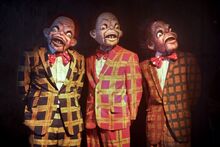 Books
Ad blocker interference detected!
Wikia is a free-to-use site that makes money from advertising. We have a modified experience for viewers using ad blockers

Wikia is not accessible if you've made further modifications. Remove the custom ad blocker rule(s) and the page will load as expected.