Goosebumps 2 (name not final) is the upcoming sequel to the 2015 Goosebumps film, coming to theaters September 21, 2018 by Columbia Pictures. Rob Letterman (director of the first film), Darren Lemke (screenwriter of the first film) are returning for the sequel, along with the producers of the first film, Deborah Forte and Neal H. Moritz. Jack Black (who played R. L. Stine in the first film) has yet to jump on board the project, though he most likely will.
The film is currently in pre-production, and as of now, has no official title, or plot.
Crew
Production
Sony announced on September 2, 2015 that a sequel was on it's way, though the first film wasn't due to come out for another month. On April 26, 2016, it was reported that Rob Letterman would return to direct the film, and Darren Lemke would handle the script. On January 17, 2017, Sony announced that the movie would hit theaters on January 26, 2018.[1] On February 7, 2017, Sony announced that they would push back the release date to September 21, 2018.[2]
Rumors and speculation
HorrorLand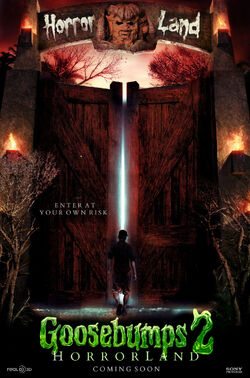 It is heavily speculated that the film will feature the theme park, HorrorLand in some way or another. A lot of fans believe it will play a big part in the film.
Returning monsters/villains speculated to appear
New monsters/villains speculated to appear
Other
A possible reason why there are a few manuscripts that were never opened in the first film may be because Slappy was saving them, but never got a chance to release them.
External Links
Goosebumps 2 at the Internet Movie Database.
References
Ad blocker interference detected!
Wikia is a free-to-use site that makes money from advertising. We have a modified experience for viewers using ad blockers

Wikia is not accessible if you've made further modifications. Remove the custom ad blocker rule(s) and the page will load as expected.