Goosebumps 2: Haunted Halloween is the upcoming sequel to the film Goosebumps, scheduled to hit theaters in the United States on October 12, 2018 by Columbia Pictures. The producers of the first film, Deborah Forte and Neal H. Moritz, are returning.
The film was originally titled Goosebumps HorrorLand. Later, many sources stated that the film was retitled Goosebumps: Slappy's Revenge.[1] Instagram posts by the film's director, Ari Sandel, suggested that the film would be called Goosebumps: Slappy Halloween,[2] which R.L. Stine corroborated on Twitter.[3] However, Stine retracted the tweet regarding the title change.[4] On April 23, 2018, a teaser for the film was posted to Instagram; in the video, the film was referred to as Goosebumps: Haunted Halloween.[5] The official trailer was released on June 11, 2018, revealing the full title to be Goosebumps 2: Haunted Halloween.[6]
Plot
Backstage reported that the film would center around "Slappy, the evil ventriloquist's dummy who's hell-bent on jump-starting the Halloween apocalypse. Three friends must stop the stuffed adversary before he ruins Halloween for good."[7] Omega Underground went further in detail, saying that there will be "a set of new kids, who include a 17-year-old named Sarah, her brother Sonny and his best friend Sam." Omega Underground also suggested that the film would involve Nikola Tesla.[8]
In a description published by Screen Rant on July 11, 2018, the film would take place in Wardenclyffe, New York. Additionally, the film would follow Sonny Quinn and his best friend Sam. The two boys enjoy collecting other peoples' junk. The story also includes Sarah Quinn, Sonny's older sister.[9] This information was confirmed by puppeteer Avery Jones in an interview on July 13, 2018.[10] The names provided in the video match the plot details released by Omega Underground, and Wardenclyffe is a real location where Tesla often experimented.[11]
Cast
According to an article by Variety posted on February 22, 2018, the following people were cast to appear in the upcoming film:[12]
Madison Iseman as Sarah
Ben O'Brien
Caleel Harris as Sam
Jeremy Ray Taylor as Sonny
Another Variety article, posted March 5, 2018, reported that the following actors were also cast:[13]
Wendi McLendon-Covey
Ken Jeong
Chris Parnell
On April 19, 2018, multiple sources reported that Peyton Wich was signed for the film.[14]
Crew
Production
Sony announced on September 2, 2015 that a sequel was on it's way, though the first film wasn't due to come out for another month. On April 26, 2016, it was reported that Rob Letterman would return to direct the film, and Darren Lemke would handle the script. On January 17, 2017, Sony announced that the movie would hit theaters on January 26, 2018.[15] On February 7, 2017, Sony announced that they would push back the release date to September 21, 2018.[16] On May 18, 2017, official title for the film was announced as Goosebumps HorrorLand, and it was stated that Jack Black would be respiring his role as R.L. Stine.[17] A teaser image was also released.
On June 12, 2017, R.L. Stine teased Slappy would appear in the film in a tweet on Twitter.[18] On November 2, 2017, it was reported by Variety[19] that Rob Lieber wrote a script for the film. According to the report, Lieber's script did not include Jack Black as R.L. Stine. However, it is said that Black could return if his schedule allows, and there are other scripts being considered that do have Black's character.
On December 12, 2017, the official director was stated to be Ari Sandel instead of Rob Letterman.[20], during the same month, the film got pushed back to October 12, 2018. Filming begun on February 25, 2018, and concluded sometime in spring.
Official trailer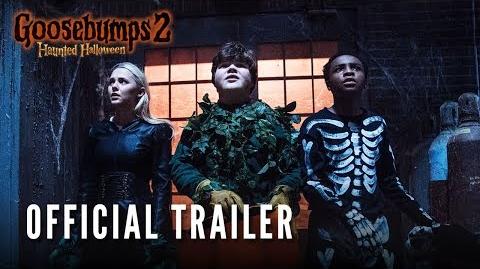 References