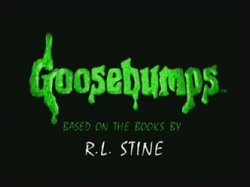 Goosebumps is a horror anthology TV series based on (and named after) R.L. Stine's best-selling book series Goosebumps. The series ran from 1995 to 1998, and lasted four seasons. It originally ran on WB Kids and Fox Kids and it is currently available for streaming on Netflix (US, UK and Canada only), and the complete series is available on iTunes for everybody.
Episodes
Season 1
Season 2
Season 3
Season 4
List of directors
Timothy Bond
Night of the Living Dummy III

John Bell
The Phantom of the Auditorium
Return of the Mummy
Bad Hare Day
Don't Go to Sleep!
Click

Ron Oliver
Say Cheese and Die!
Let's Get Invisible!
Vampire Breath
Perfect School
Werewolf Skin
Say Cheese and Die... Again
How I Got My Shrunken Head
Cry of the Cat
Piano Lessons Can Be Murder
Stay Out of the Basement
A Night in Terror Tower
The Werewolf of Fever Swamp
Attack of the Mutant
Revenge of the Lawn Gnomes
Attack of the Jack-O'-Lanterns
The Haunted Mask II
Welcome to Dead House
Don't Wake Mummy
My Best Friend is Invisible
The House of No Return
The Barking Ghost
One Day at HorrorLand
The Haunted House Game

René Bonnière
Be Careful What You Wish For...
You Can't Scare Me!

Randy Bradshaw
Ghost Beach
Scarecrow Walks at Midnight
The Blob That Ate Everyone
Shocker on Shock Street
An Old Story
Bride of the Living Dummy

Don McCutcheon
Awesome Ants
Strained Peas
The Ghost Next Door

Directors who only directed one episode:
David Warry-Smith
David Winning

It Came From Beneath the Sink!

Brian R.R. Hebb
Steve DiMarco
Craig Pryce
DVD Releases
See: Goosebumps (Television Series)/DVD Releases
Trivia
In Australia, The Complete Season DVD releases that were published in 2014, were given the M rating due to its Supernatural themes content.
In Japan, Out of 74 episodes produced, only 50 episodes were dubbed into Japanese and have been broadcast.
In the UK, The CBBC airings of the episodes were shown with either heavy cuts, or skipped and cannot be shown before 6:00 p.m.
Ad blocker interference detected!
Wikia is a free-to-use site that makes money from advertising. We have a modified experience for viewers using ad blockers

Wikia is not accessible if you've made further modifications. Remove the custom ad blocker rule(s) and the page will load as expected.