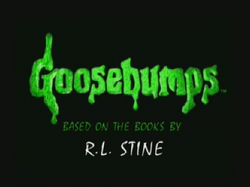 Goosebumps is a horror anthology TV series based on (and named after) R. L. Stine's best-selling book series Goosebumps. The series ran from 1995 to 1998, and lasted four seasons. It originally ran on WB Kids and Fox Kids and it is currently available for streaming on Netflix (US, UK and Canada only), and the complete series is available on iTunes for everybody.
Season 1
Season 2
Be Careful What You Wish For...: Klutzy Samantha Byrd gets three wishes from a strange woman named Clarissa - with horrifying results.
Attack of the Mutant (Part One): Comic book addict Skipper finds out that his favorite comic book villain is real. Adam West guest stars.
Attack of the Mutant (Part Two): Skipper discovers that he has been turned into a comic book character chosen to fight a villain called The Masked Mutant.
Bad Hare Day: Wannabe magician Tim Swanson steals the bag of tricks from his favorite magician - and finds himself unable to control the magic. Colin Mochrie makes a small appearance.
The Headless Ghost: Two pranksters, Stephanie Alpert and Duane Comack find themselves trapped in a seaside house haunted by a headless ghost, a sea captain, and the ghost of a boy who died falling through a dumb waiter when his strawberry ice cream didn't arrive.
Go Eat Worms: Todd Barstow's sadistic experiments on worms backfire when his test animals begin to haunt him.
You Can't Scare Me: Two boys (Eddie and Hat) who dare each other to scare a fearless girl (Courtney) find themselves running from swamp monsters.
Revenge of the Lawn Gnomes: A lawn contest prompts a dad to buy two lawn gnomes who cause destruction at night.
Ghost Beach: Two siblings, Jerry and Terri Sadler discover the secrets of a seaside mountain cave supposedly haunted by a ghost.
Attack of the Jack-O'-Lanterns: Pumpkin-headed aliens force four children into trick or treating in a strange town.
The Haunted Mask II (Part One): In this two-part sequel to "The Haunted Mask", Steve Boswell, one of the boys from the original story takes an old man mask from the store that Carly Beth went to and begins to become an old man. Meanwhile, Carly Beth's mask from the first story returns to exact his revenge on its former wearer.
The Haunted Mask II (Part Two): Steve and Carly Beth try to break the mask's spell - and defeat the mask that tried to possess Carly Beth.
Let's Get Invisible!: Max and his brother Noah find a mirror in the attic that turns its users invisible, but on the other side is a world where evil mirror reflections want to switch with real people.
Scarecrow Walks at Midnight: An old couple is haunted by demonic scarecrows brought to life by a farmhand's black magic.
Monster Blood: In this adaptation of the first "Monster Blood" book, Evan Ross and his friend, Andy, discover a novelty slime called Monster Blood that devours everything in its path.
More Monster Blood: In this story (which has never appeared in the Monster Blood series), Evan travels back home, only to find that the Monster Blood he destroyed is aboard the plane.
Vampire Breath: While searching for their birthday presents, two siblings, Freddy and Cara find a bottle that releases the spirit of a vampire.
How to Kill a Monster: Step-siblings Gretchen and Clark stay at their grandparents' house in the middle of a swamp that has a monster locked in a room.
Calling All Creeps!: School newspaper journalist Ricky Beamer plays a prank on his rival that calls the attention of a group of kids who are actually reptilian aliens bent on world domination.
Welcome to Dead House (Part One): The Benson family moves into a house in a neighborhood were its residents were killed in an accident from a chemical factory and now walk the Earth as zombies.
Welcome to Dead House (Part Two): The children, Amanda and Josh try to fight the zombies and send them back to their graves.
Don't Wake Mummy: Adapted from the "Tales To Give You Goosebumps" anthology series, a family inherits a sarcophagus that holds a cursed mummy.
The Blob That Ate Everyone: Zack Beauchamp, a wannabe writer, receives a typewriter that brings anything written to life--even the story of a blob monster.
Night of the Living Dummy III (Part One): Slappy is found by the O'Dell family, and begins terrorizing them.
Night of the Living Dummy III (Part Two): Slappy faces off against another evil dummy named Rocky who later turns good and kills Slappy and himself to protect the O'Dells.
Season 3
Season 4
List of Directors
Timothy Bond
Night of the Living Dummy III
John Bell
The Phantom of the Auditorium
Return of the Mummy
Bad Hare Day
Don't Go to Sleep!
Click
Ron Oliver
Say Cheese and Die!
Let's Get Invisible!
Vampire Breath
Perfect School
Werewolf Skin
Say Cheese and Die... Again
How I Got My Shrunken Head
Cry of the Cat
Piano Lessons Can Be Murder
Stay Out of the Basement
A Night in Terror Tower
The Werewolf of Fever Swamp
Attack of the Mutant
Revenge of the Lawn Gnomes
Attack of the Jack-O'-Lanterns
The Haunted Mask II
Welcome to Dead House
Don't Wake Mummy
My Best Friend is Invisible
The House of No Return
The Barking Ghost
One Day at HorrorLand
The Haunted House Game
René Bonnière
Be Careful What You Wish For...
You Can't Scare Me!
Randy Bradshaw
Ghost Beach
Scarecrow Walks at Midnight
The Blob That Ate Everyone
Shocker on Shock Street
An Old Story
Bride of the Living Dummy
Don McCutcheon
Awesome Ants
Strained Peas
The Ghost Next Door
Directors who only directed one episode:
David Warry-Smith
David Winning

It Came From Beneath the Sink!

Brian R.R. Hebb
Steve DiMarco
Craig Pryce
DVD Releases
See: Goosebumps (Television Series)/DVD Releases
Trivia
In Australia, The Complete Season DVD releases that were published in 2014, were given the M rating due to its Supernatural themes content.
In Japan, Out of 74 episodes produced, only 50 episodes were dubbed into Japanese and have been broadcast.
In the UK, The CBBC airings of the episodes were shown with either heavy cuts, or skipped and cannot be shown before 6:00 p.m.
Ad blocker interference detected!
Wikia is a free-to-use site that makes money from advertising. We have a modified experience for viewers using ad blockers

Wikia is not accessible if you've made further modifications. Remove the custom ad blocker rule(s) and the page will load as expected.