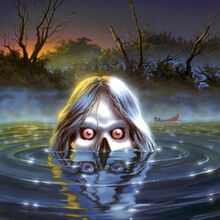 Della River is a ghost girl who appeared in the fifty sixth Goosebumps book, The Curse of Camp Cold Lake.
History
She makes people think that she died from drowning, that's why she's in the water, scaring people, Sarah met her while planning on making the camper's feel sorry for her. Della wanted a new friend in the after life, she wanted Sarah, but then it is revealed that she didn't die from drowning, she died from a poisonous snake bite.
Ad blocker interference detected!
Wikia is a free-to-use site that makes money from advertising. We have a modified experience for viewers using ad blockers

Wikia is not accessible if you've made further modifications. Remove the custom ad blocker rule(s) and the page will load as expected.