Classic Goosebumps is a series of reprints of older Goosebumps titles with all-new covers and bonus materials.
History
The first eighteen books were released as tie-ins to the books in the Goosebumps HorrorLand series. This stopped with book nineteen for unknown reasons. After book twenty-two in November 2011, the series was put on a four year hiatus, for once again, unknown reasons. It wasn't until April 28, 2015 when Scholastic released ten new Classic Goosebumps books at the same time to promote the Goosebumps film. Out of the ten books, seven of them are from the original Goosebumps series, two of them from Goosebumps Series 2000, and one from Give Yourself Goosebumps. Since then, there haven't been any new Classic Goosebumps books published. It is currently unknown if the series is canceled or on hiatus.
Art style
The art direction for Classic Goosebumps is vastly different than the original series. The cover art is not done by series veteran Tim Jacobus, but instead, Brandon Dorman, who is known for his cartoony, yet detailed fantasy-like illustrations. Unlike the Jacobus, Dorman's covers are created digitally. Some of Dorman's illustrations tend to mimic Jacobus' original paintings, but done in his own style (as seen with the image on the right).
The covers for Classic Goosebumps do not feature slime of any kind along the border of the cover. Similarly to the covers of the Goosebumps Series 2000 books, the slime was likely omitted to allow for better presentation of the cover art. The design of the logo has also been changed, and is now white instead of green.
Books
Collections
Classic Goosebumps Collection
The Classic Goosebumps Collection is a collection of four Goosebumps stories in one book. The stories included in the book are:
The book was released digitally in December 2011. The cover features an edited version of the cover art for Night of the Living Dummy by Tim Jacobus.
Trivia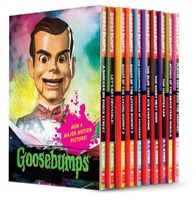 Ad blocker interference detected!
Wikia is a free-to-use site that makes money from advertising. We have a modified experience for viewers using ad blockers

Wikia is not accessible if you've made further modifications. Remove the custom ad blocker rule(s) and the page will load as expected.