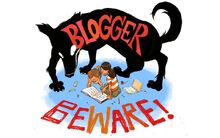 Blogger Beware is a blog run by Troy Steele that reviews Goosebumps books. The blog currently contains reviews for all original Goosebumps books, the Tales to Give You Goosebumps books, and the Goosebumps Series 2000 books.
History
The first review posted on Blogger Beware was Troy Steele's review of the book Egg Monsters from Mars on January 19, 2006. Throughout the next two years, Troy would go on to review every book in the original Goosebumps series, with his final review being his review of Revenge of the Lawn Gnomes on June 30, 2008. After this review, Troy went on to review all books in Goosebumps Series 2000. At one point, Troy Steele stated that he may eventually move on to reviewing the HorrorLand series and possibly even the Ghosts of Fear Street series, a book series similar to Goosebumps.
Blogger Beware went on a long hiatus after More Tales to Give You Goosebumps was reviewed on May 9, 2011. Over the course of the next year, the only featured updates on the blog did not contain reviews. On June 5, 2012, Troy uploaded a review for Revenge of the Living Dummy. This was the first time that a Goosebumps HorrorLand book had been reviewed on Blogger Beware.
Revenge of the Living Dummy is currently the last Goosebumps book to be reviewed by Troy. Troy's blog has been completely dormant for over a year and is not currently being updated.
The blog was updated once in 2015 with a post entitled "Exciting New Poster For Everyone's Most Anticipated Movie Debuts!"; the title of the post is supposed to seem like it is alluding to the film Goosebumps, but — in actuality — the post is about an obscure film called Jenny's Wedding.
10 Best Books
In a retrospective of the Goosebumps originals series, Troy made up a list of ten best and ten (or eleven) worst Goosebumps book. The bests are:
10 Worst Books
In a retrospective of the Goosebumps originals series, Troy made up a list of ten best and ten (or eleven) worst Goosebumps book. Though he has states the list only has ten books, in reality it has eleven, because one book got was ranked at #0 (Chicken Chicken). The worsts are:
Trivia