Attack of the Jack-O'-Lanterns is the tenth episode of Season 2 of the Goosebumps TV series. The episode was based on the Goosebumps book of the same title. The episodes aired on Fox Network on October 26, 1996. It was directed by William Fruet.
Cast
Erica Luttrell as Drew Brockman
Aidan Desalaiz as Walker
Gino Giacomini as Lee
Maria Paikin as Tabitha
Philip Eddolls as Shane
Andrea O'Roarke as Shana
Michelyn Emelle as Drew's Mother
Johnie Chase as Drew's Father
Differences from the Book
In the book, the pumpkin-headed creatures make the kids eat the candy in their bags to make room for more candy. In the television episode, the pumpkin-headed creatures merely dump the candy out on the street.
Walker does not know that Shane and Shana are aliens.
Trivia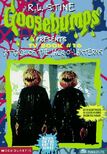 This television episode was adapted into Goosebumps Presents Book #16.
This is the first of three television episodes on the Goosebumps DVD of the same name.
Erica Luttrell (Drew) played Kim in Season 1's, Piano Lessons Can Be Murder.
Philip Eddolls (Shane) played Corey Sklar in Season 1's, The Phantom of the Auditorium.
The TV Spot accidentally stated the title as "Night of the Jack-O'-Lanterns"
One of the Trick-Or-Treaters shown walking was a boy who won a walk-on role on the show.
Gallery
Media
Ad blocker interference detected!
Wikia is a free-to-use site that makes money from advertising. We have a modified experience for viewers using ad blockers

Wikia is not accessible if you've made further modifications. Remove the custom ad blocker rule(s) and the page will load as expected.